Developing World Healthcare Blog
What is Interesting about Developing World Healthcare?
Welcome to the Developing World Healthcare Blog. We can provide an investor's perspective on healthcare systems in the developing world (defined as emerging and frontier markets) and connections between healthcare systems in the developing and developed world. Our goal is to provide concise, useful, and interesting thoughts on trends in developing countries' healthcare systems. We plan to post monthly (typically around the middle of the month) and in response to major news (such as last year's scandal involving the pharmaceutical industry in China.) Our 25 years of investing in healthcare combined with work experience in both the US and Asia put us in a unique position to discuss this subject.
Our initial post is, "What is Interesting about Developing World Healthcare?"
What is Interesting about Developing World Healthcare? Look at the Data………….
Healthcare spending as a percentage of GDP averaged 10.2% globally in 2010, but with very wide disparities by income level: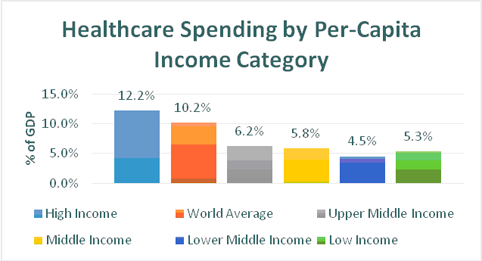 Sources: World Health Organization and World Bank (income categories)
Not surprisingly, these disparities are evident across a wide spectrum of countries with spending in many "developing countries" at less than half of the global average. As per-capita incomes rise in these countries, the percentage of GDP allocated to healthcare will likely increase. As a result, demand for pharmaceuticals, devices, and services should grow relatively faster in the developing world compared to the developed world.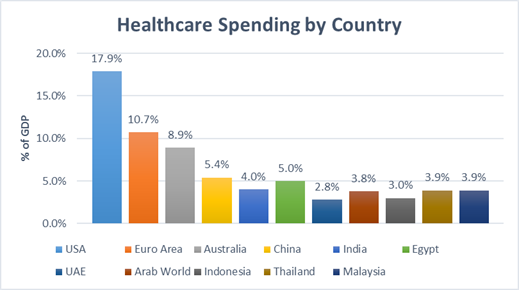 Source: World Health Organization
Insufficient Healthcare Infrastructure in the Developing World Highlights the Need and Opportunity
There are numerous statistics that measure healthcare infrastructure (size of healthcare workforce per-capita; healthcare facilities per-capita; etc.). The data below on hospital bed density illustrate how the disparities in healthcare spending translate into tangible deficiencies that impact people on a daily basis (waiting times and limited availability of specialized services are examples.)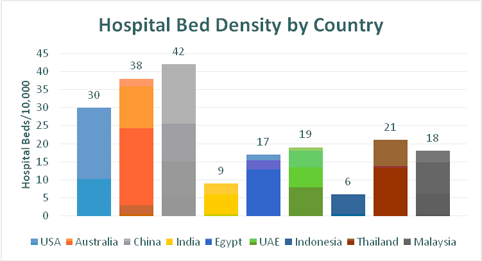 Source: World Health Organization
The shortages (whether in quantity or quality) of bed capacity have led some countries to delegate the job of adding healthcare infrastructure to the private sector. The countries have adopted policies that encourage the development of new private hospitals to serve the upper-income segment of the population. This strategy allows governments to focus on providing services to lower-income groups at a relatively lower-cost while avoiding the tax increases necessary to provide funding.
What is Interesting about Developing World Healthcare? Look at the Global Connections
The developing world is home to several industrial clusters that have leading positions in certain global healthcare segments. Some of the most prominent examples include:
India -- Supplies over 40% of over-the-counter and generic drugs consumed in the US.
Malaysia -- The world's leading producer of medical gloves (nearly 60% share) and condoms (over 30% share).
As R&D investment in the developing world grows in relative importance, expect to see more innovative products emerge from these countries. In the interim, quality problems at Indian manufacturing facilities could reduce the availability of certain generic drugs. Water rationing in Selangor (a state in Malaysia) could raise the prices of medical gloves at your local hospital.
What is Interesting about Developing World Healthcare? Come Back for More!
Anyone interested in healthcare will benefit from learning more about this underappreciated and growing segment of global healthcare. Leading healthcare companies continue to invest in the developing world as the roster of listed companies in the developing world grows too. Use the "Subscribe" function on this page to sign up to receive emails with our latest postings.